Welcome to the Potomac Speedskating Club
Skating fast and turning left since 2008
The 2016-17 training season has begun. Please remember to fill out your PSC membership form and see you at practice!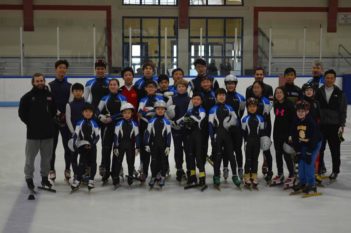 Potomac Speedskating Club achievements in 2015-16:
PSC captured second place overall at the U.S. National Age-Graded Short Track Speedskating Championships in Madison, Wisc. in March, 2016. Eighteen PSC skaters participated in the competition. Hailey Choi and Brandon Kim earned the 2016 national championship titles in the Midget Girls and the Junior C Men categories respectively. Brandon broke four national records while Hailey also won the long track national championship.
Thomas Hong – World Cup Team and AM Cup III Winner
Aaron Heo – Youth Olympic Games USA Competitor
Brandon Kim – National Development Skater of the Year
Hailey Choi – National Champion Short Track and Long Track