Welcome to the Potomac Speedskating Club
2016-17 National Club Champion
Skating fast and turning left since 2008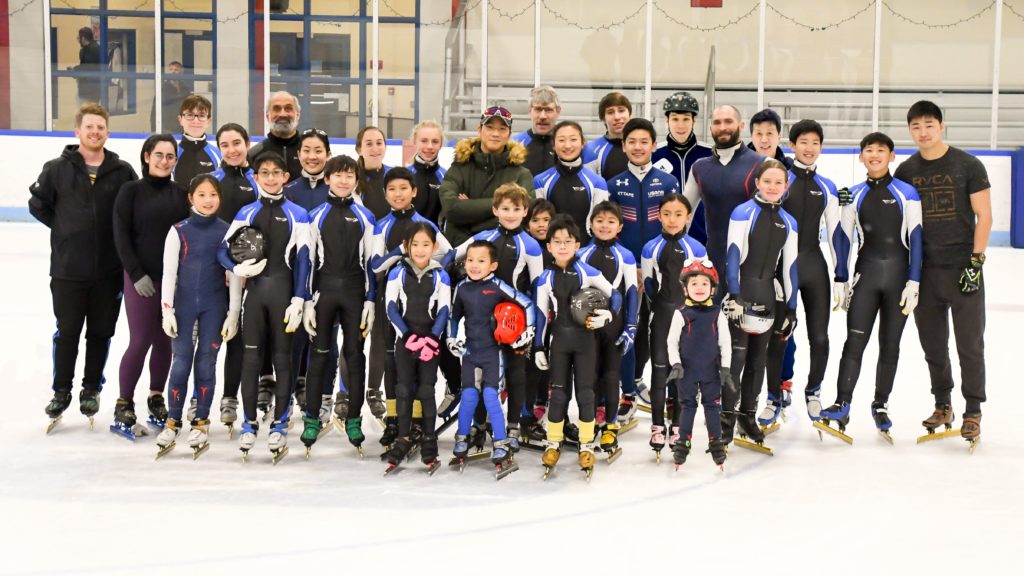 2017-18 Season:
U.S. Speedskating named Potomac Team Captain Brandon Kim to the U.S. Short Track Junior National Team, along with PSC alum Aaron Heo. Congrats to both!
The Potomac Speedskating Club won the coveted team trophy at the Buffalo Short Track Speedskating Championship in October, 2017 for the second year in a row. Eighteen PSC skaters competed in the event.
Highlights from the 2016-17 season:
The Potomac Speedskating Club won the 2016-17 National Club Champion title at U.S. Short Track Age Group Nationals in Midland, Mi. in March, 2017. PSC previously won the title in 2012. Congrats to all, including Hailey Choi, who broke national records in all four distances (333 meter, 500 meter, 777 meter and 1000 meter) in the Junior D Women's category and Brandon Kim, who broke his own national record in the 500 meter in the Junior C Men's category.
Congratulations to Hailey Choi, who won her fourth consecutive long track title at U.S. Long Track Age Group Nationals in Lake Placid, N.Y. in February, 2017. Choi won in the Midget age class. She also set a new U.S. National Age Group Long Track outdoor record in the 500 meter with a time of 47.23. Choi now holds three U.S. outdoor long track records. James Gil de Lamadrid won third place in the Masters 60-69 age group.
Aaron Heo, Thomas Hong and Brandon Kim represented the U.S.A. at the World Junior Short Track Championships in Innsbruck, Austria, in January, 2017. Thomas Hong won the silver medal in the 500 meter and placed fourth place overall. Heo, Hong and Kim joined with Ben Thornock to win the bronze medal in the 3000 meter relay final, setting a new American junior record in the event.
Brandon Kim won first place overall among men at the 2016-17 U.S. Short Track Junior Championships in Kearns, Utah, in December, 2016, coming in first place in the 500 meter, 1000 meter and 1500 meter superfinal. Aaron Heo won third place overall.
The Potomac Speedskating Club brought home the Team Trophy at the 2016 Buffalo Short Track Speedskating Championships! PSC Skater Hailey Choi was the top finisher in the women's events.
PSC Member Thomas Hong helped to set a new American record on Nov. 4, 2016, in the 5000-meter relay, as part of the U.S. World Cup Team, along with Adam Callister, Keith Carroll Jr. and John-Henry Krueger. Congratulations!